Looking for the best things to do in summer in Seattle? I've got you covered!
In this post, I will share with you my personal experiences and insider guide to Seattle in the summer.
From secret foodie spots and hidden art galleries to sunset sails on Puget Sound, every aspect is a personal story, offering you an authentic taste of summer in the Emerald City.
Let me help you plan your summer adventures in Seattle with this epic guide, and don't forget to include these activities on your Seattle summer bucket list!
​​
Best Seattle Tour in Summer
Don't have time to read the whole article? Book this
Seattle Harbor Cruise
— and enjoy a 5⭐ Seattle summer experience, with a spectacular panoramic background of the Cascade and Olympic mountain ranges.
10 Best Things to Do During Summer in Seattle
Seattle is one of the most popular destinations in the United States — especially when the overcast skies and rainy days clear up in the summer months!
Summer is a popular time to visit Seattle, but not just for the great weather. There are tons of fun things to do during the summer in Seattle — from hiking and whale-watching to dining experiences and farmers' markets.
It's no wonder visitors flock to Seattle at this time of year.
If you want to explore the best Seattle summer activities, Brittany, a freelance copywriter and travel blogger, who runs the travel site Travel by Brit, will show you some of her favorite things to do in Seattle in the summer!
Let's jump into the fun part — the best things to do during the summer in Seattle!
1. Go on a food tour in Pike Place Market
One of the best things to do in Seattle — regardless of the season — is to take a Pike Place Market food tour.
Not only will you learn valuable historical information about this iconic market, but you will also be able to sample delicious fruit, beverages, and local food from the market.
There are food tours that people of all interests will enjoy, including this early-bird tasting tour before the tourists arrive at the market, this chef-guided food tour, a seafood tasting tour, and a plant-based food tour.
For the perfect summer treat in Pike Place Market, look no further than Shug's Soda Fountain and Ice Cream.
Serving a variety of flavors from Lopez Island Creamery, this vintage-style parlor specializes in delightful ice cream experiences, including their signature artisanal ice cream sodas.
😋 Book this amazing 2-hour Pike Place Market Tasting Tour, and experience the food and culture at one of the city's favorite market spots!
2. Take the ferry to Bainbridge Island
Did you know that one of the best views of the Seattle skyline is from the ferry to Bainbridge Island?
On a clear summer day, you will see the city as you sail away from Colman Dock, and then you can enjoy a fun day exploring Bainbridge Island.
While you're on Bainbridge Island, grab coffee at Pegasus Coffee House, lunch at Proper Fish, shop at the boutiques and local shops on Winslow Way (Eagle Harbor Book Co. is great!), and enjoy a glass of wine at Eagle Harbor Wine Co. or Fletcher Bay Winery Tasting Room.
3. Dine on the patio of The Pink Door
There are tons of fabulous places to eat in Pike Place Market.
However, one of the top restaurants in Pike Place Market (and arguably, all of Seattle) is an absolute must during the summer — The Pink Door!
The Pink Door serves tasty Italian food, but they also have live entertainment, like trapeze and cabaret.
It's best to make reservations if you are visiting during the summer (or weekend), as this restaurant is popular and only offers limited walk-up seating.
However, if you can, request to sit on the patio to soak up the sunshine and enjoy stunning views of Elliot Bay!
4. Go hiking in Discovery Park
Seattle is known for its fabulous hiking trails just outside the city. However, you don't have to go far for beautiful hiking (and gorgeous beaches!) in Seattle.
Discovery Park is located just northwest of Seattle and features miles of rugged trails, beaches, and beautiful green spaces. Seattle parks are perfect during summer!
On the trails, including the Loop Trail and South Beach Trail, you can soak up views of the Puget Sound and see the West Point Lighthouse — the park's most notable landmark.
5. Ride to the top of the Space Needle
The Space Needle is one of the most famous landmarks in Seattle!
While many visitors opt to marvel at the Space Needle from the ground, you can purchase tickets to ride an elevator to the tower's top level that rests 520 feet above Seattle.
While it's often not worthwhile to ride to the top on a gloomy day — it's one of the best things to do during a clear perfect summer day in Seattle!
From the top of the Space Needle, you can see panoramic views of Downtown Seattle, Mount Rainier, the Puget Sound, and the Cascade and Olympic Mountains.
6. Embark on a national park road trip
Summer is one of the best times to visit the famous three national parks just outside Seattle: Mount Rainier National Park, Olympic National Park, and North Cascades National Park.
Olympic National Park is 138 miles from Seattle and offers lush rainforests, snow-covered mountains, and stunning coastline views.
Mount Rainier National Park is 107 miles from Seattle and offers spectacular hiking, wildflower meadows, and glaciers.
North Cascades National Park is 116 miles away from Seattle and offers stunning blue lakes, glaciers, and towering mountains that are popular among hikers.
If you can swing it, visit all three of these national parks during your trip to Seattle. They all shine in the summer!
However, if you only have time for one day trip, it's still worth visiting at least one of these national parks.
7. Go on a whale-watching tour in Summer in Seattle
The summer months, between May and October, are best for whale-watching in Seattle.
During this peak whale-watching time, you will see humpback, gray, and even orca whales in the waters of Puget Sound!
You can join this whale-watching tour from Downtown Seattle.
This amazing 5-hour tour departs from Pier 69, and during the summer, you will have the chance to see orcas, minke whales, humpback whales, and other wildlife on a half-day excursion.
8. Explore the Chihuly Garden and Glass in Summer
Chihuly Garden and Glass is one of the most famous museums in Seattle that can be enjoyed at all times of the year.
It features stunning glass artwork by Dale Chihuly, a renowned artist with work in over 200 museums nationwide.
However, summer is the best time to visit this fabulous museum, because you'll be able to enjoy the gardens without the risk of rain.
After enjoying the artwork, be sure to stop for a fancy cocktail at The Bar at Chihuly Garden and Glass!
Buy here the tickets for the Chihuly Garden and Glass that includes digital photos, gallery talks, live glass demonstrations, and a complimentary Audio tour.
9. Enjoy a cocktail on a rooftop bar
There are several fabulous rooftop bars to enjoy in Seattle, but one stands above the rest — The Nest Rooftop Bar on top of the Thompson Seattle.
This gorgeous rooftop bar offers spectacular views of Pike Place Market and Elliot Bay on a clear day, and the cocktails are certainly enjoyable as well.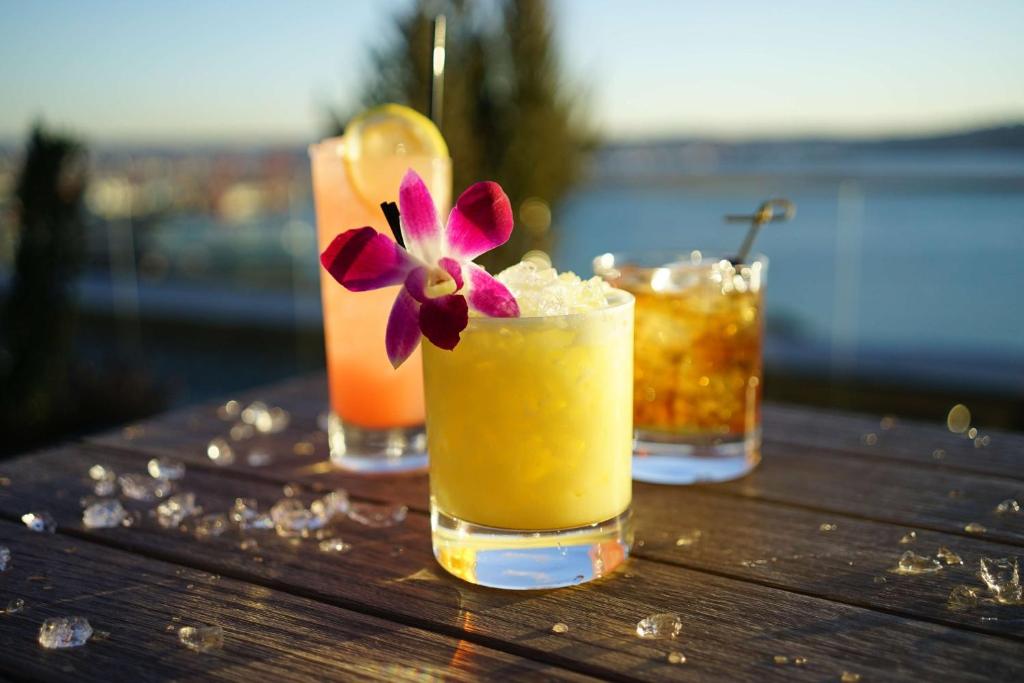 Try the Pea Diddy, a pea flower-infused vodka with passionfruit, lemon, and tiki bitters — $1 from every drink is donated to the Pike Place Market Foundation!
10. Catch a professional sports game
Two of Seattle's most popular sports teams — the Seattle Mariners (baseball) and Seattle Sounders (soccer) — play in the summer.
If you are a big sports fan, consider buying tickets to cheer on the local teams during your visit to Seattle!
Summer Events in Seattle
From music festivals that capture Seattle's eclectic rhythms to delicious food events full of Pacific Northwest flavors, Seattle is set to provide unforgettable experiences for locals and tourists alike.
West Seattle Summer Fest
This free three-day street fair transforms the heart of West Seattle into a bustling hub of entertainment and cultural exchange.
West Seattle Summer Fest offers an immersive experience with its diverse live music, delicious local food, unique shopping options, and festive atmosphere, celebrating community spirit and creativity.
Seattle International Film Festival (SIFF)
An annual celebration of film and filmmaking, SIFF is the largest and most highly attended film festival in the United States, presenting more than 400 films from over 85 countries. In 2023, it promises an even wider variety of international and local films to choose from.
Bite of Seattle
The ultimate foodie extravaganza, Bite of Seattle, brings together the best restaurants, food trucks, and chefs from across the city for a weekend of delectable dining. It's a culinary paradise that shouldn't be missed!
Capitol Hill Block Party
This summer music festival showcases the best of Seattle's indie and alternative music scene alongside top national and international artists. It's a pulsating event that vibrates with the city's youthful and creative energy. It's one of the best summer festivals in Seattle!
Seafair Summer Fourth
What better way to celebrate Independence Day than with fireworks over Lake Union? This festive event features food vendors, live music, and plenty of family-friendly activities.
Bumbershoot
As Seattle's long-running arts and music festival, Bumbershoot rounds off the summer with performances from globally-renowned artists, comedians, and a diverse array of cultural exhibitions.
Seattle Art Fair
Featuring the best in modern and contemporary art, the Seattle Art Fair draws artists, collectors, and enthusiasts from around the globe. A great way to immerse yourself in the city's thriving art scene.
Summer Concerts in Seattle
From indie rock to classical symphonies, the Emerald City is set to echo with diverse melodies and harmonies that make summer nights even more magical.
Whether you're a die-hard music fan or just looking to enjoy some good tunes, here are some unmissable summer concerts:
ZooTunes at Woodland Park Zoo
A summer tradition that combines great music with wildlife, ZooTunes offers family-friendly outdoor concerts. Scheduled throughout the summer, the line-up is always a diverse mix of genres.
Chateau Ste. Michelle Summer Concert Series
Hosted in the picturesque vineyard grounds, this series features performances from some of the biggest names in rock, pop, and jazz. Sip on some fine wine as you enjoy the music.
Marymoor Park Concerts
This outdoor venue hosts a variety of musical acts throughout the summer, offering a mix of established stars and up-and-coming talents in a beautiful park setting.
Benaroya Hall
For classical music lovers, the Seattle Symphony's summer concerts at the iconic Benaroya Hall are not to be missed. The summer schedule features everything from grand symphonies to intimate chamber music performances.
In 2023, some of the concerts in Seattle this summer are Taylor Swift, Alicia Keys, and John Legend. Epic!
Places to visit near Seattle in summer
Seattle's breathtaking natural surroundings offer a plethora of delightful getaways perfect for summertime exploration.
Just a short drive from the city, you can find lush forests, beautiful beaches, scenic mountain trails, and charming towns, each offering a unique flavor of the Pacific Northwest.
If you're planning to venture out and explore the best places near Seattle this summer, here are some top picks:
Alki Beach
Just a 15-minute drive from Downtown Seattle, Alki Beach is a summer hotspot in Seattle, offering a beautiful sandy coastline with stunning views of the city skyline and Puget Sound.
With its laid-back vibe, it's perfect for sunbathing, beach volleyball, or simply enjoying the scenic sunset.
Snoqualmie Falls
Just a 30-minute drive from Seattle, this 268-foot waterfall is one of Washington State's most popular scenic attractions and one of the best summer hikes near Seattle!
The 1.5-mile hike to the lower observation deck is worth the effort.
🌿 Book this amazing 6-hour Snoqualmie Falls and Seattle Winery Tour that includes pickup and drop-off from downtown Seattle and airport hotels.
Mount Rainier National Park
Home to the iconic Mount Rainier, this national park boasts magnificent landscapes and a variety of hiking trails.
The Skyline Trail is particularly popular in the summer, offering stunning wildflower blooms and views of glaciers.
🌿 Book this All-Inclusive Small-Group Mount Rainier National Park Day Tour from Seattle, including a professional naturalist guide, lunch, lots of snacks, transportation, and more!
San Juan Islands
Accessible by ferry or a short flight, the San Juan Islands are perfect for wildlife spotting, kayaking, and relaxing on beautiful beaches.
Don't miss the chance to explore Friday Harbor, a charming seaport with excellent dining options.
Leavenworth
This Bavarian-styled village in the Cascade Mountains is a unique blend of natural beauty and cultural charm. In summer, enjoy hiking, river rafting, and al fresco dining.
📸 Book this amazing Leavenworth Day Tour from Seattle and explore on your own this charming Bavarian town with plenty of shops, wine rooms, restaurants, and galleries.
Olympic National Park
With its diverse ecosystems, ranging from rainforests to alpine highlands, Olympic National Park offers excellent hiking opportunities.
The Hoh Rain Forest and Hurricane Ridge trails are particularly scenic in the summer.
🌿 Book this All-Inclusive Small-Group Olympic National Park Day Tour from Seattle, including a professional naturalist guide, lunch, lots of snacks, transportation, and more!
Bainbridge Island
A 35-minute ferry ride from downtown Seattle, Bainbridge Island offers stunning views, art galleries, wineries, and beautiful parks.
The Bloedel Reserve is a serene garden oasis that's especially lovely in the summer.
When is Summer in Seattle?
Summer in Seattle typically spans from late June to September, with the warmest months being July and August. This is the best time to enjoy the city's outdoor activities and summer events.
However, pleasant summer-like weather often extends from late May to early October.
Summer Weather in Seattle
Personally, I think that Summer is the best time of year to visit Seattle!
With its pleasantly warm temperatures, usually ranging between the high 60s and mid-70s (Fahrenheit), it's the perfect weather for outdoor exploration and some hiking near the city.
Seattle sheds its rainy reputation, and the summer sun highlights the stunning natural beauty of the surrounding mountains, forests, and waterways.
How to Get to Seattle
Unless you live within driving distance of Seattle, chances are, you'll be flying into Seattle's major airport — the Seattle-Tacoma International Airport.
Seattle is an extremely walkable city.
If you decide to forgo a car rental, you can ride the light rail or Lyft or Uber to the city center. It's only a short 13-mile drive.
However, if you plan to take any day trips from Seattle to nearby cities or national parks, it's worth renting a car.
Travel Tips for Visiting Seattle in the Summer
Here are a few of our best local insider tips for visiting Seattle in the summer:
Summer is typically drier than other seasons, but you should still pack a rain jacket in the event of unexpected rain showers.
Stay in Downtown Seattle to be within walking distance of popular attractions, including Pike Place Market, the Original Starbucks, and Waterfront Park.
Because summer is such a great time to visit Seattle, remember to book your plane tickets, hotels, tours and activities early to secure the best rates.
🚗 Looking to get around via car? Find the cheapest car rentals here!
Where to Stay in Seattle
There are tons of fabulous places to stay in Downtown Seattle. These are a few highly-rated hotels we recommend checking out before visiting the city of Seattle in the summer:
This boutique hotel has a gorgeous lobby with a complimentary cocktail hour and a fabulous coffee shop in the lobby.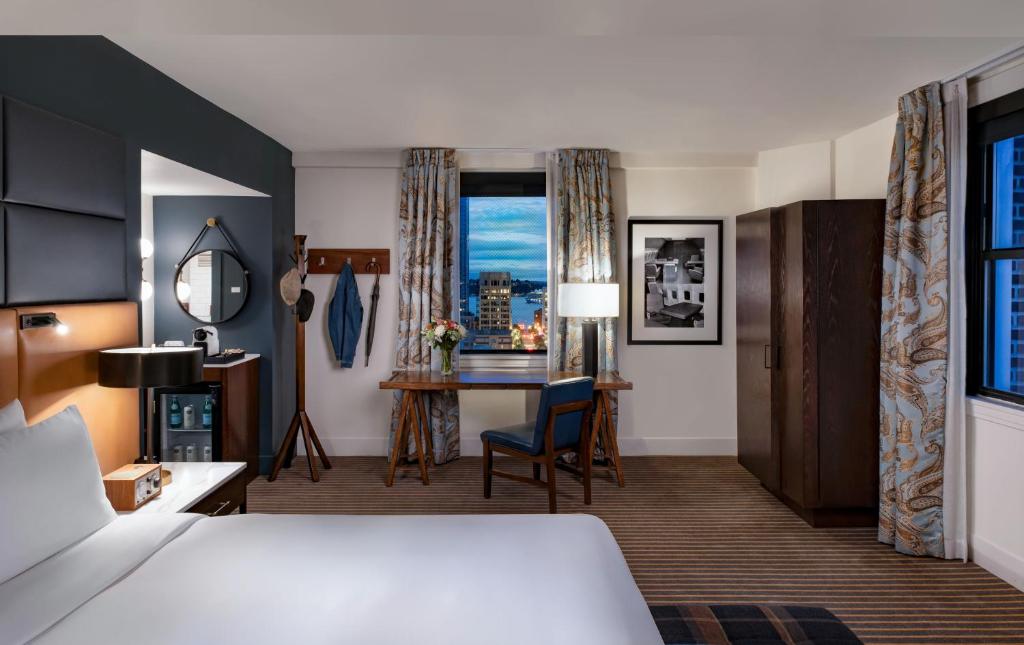 You can rent bikes to ride around downtown, but the hotel is within walking distance of several popular attractions, including Pike Place Market.
🛌 Check prices and availability here.
If you are looking for a hotel with a fabulous rooftop bar, look no further than the Thompson Seattle.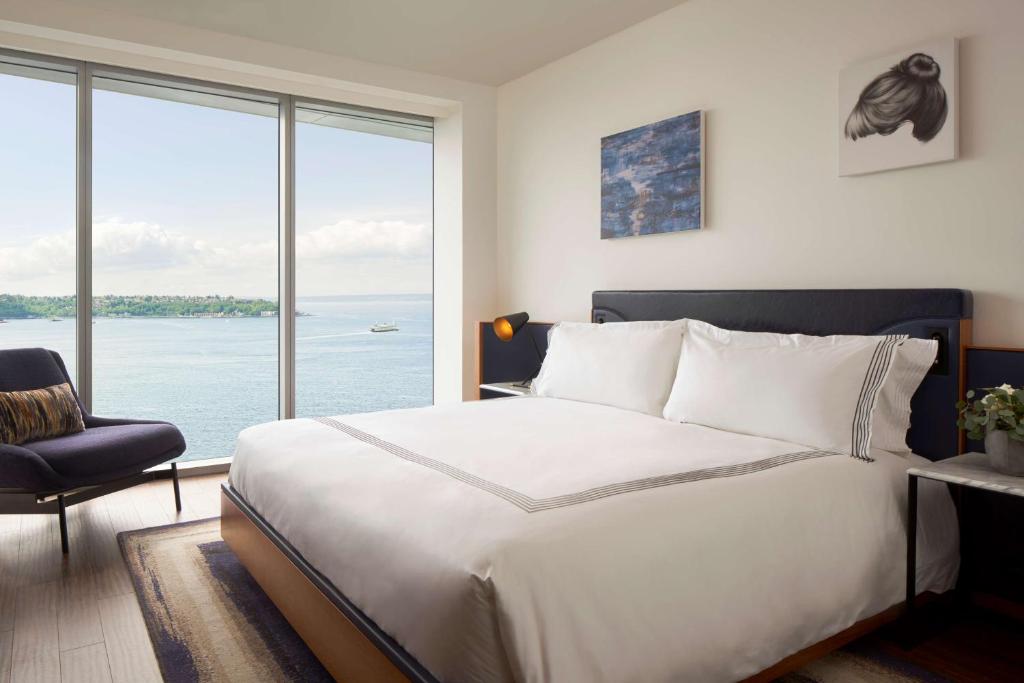 You can enjoy views of Elliot Bay, the Olympic Mountains, and Downtown Seattle from your luxurious room.
🛌 Check prices and availability here.
If you want to be a short distance from Seattle's top attractions, like Pike Place Market and the Space Needle, you will love this elegant and modern hotel in the heart of Downtown Seattle.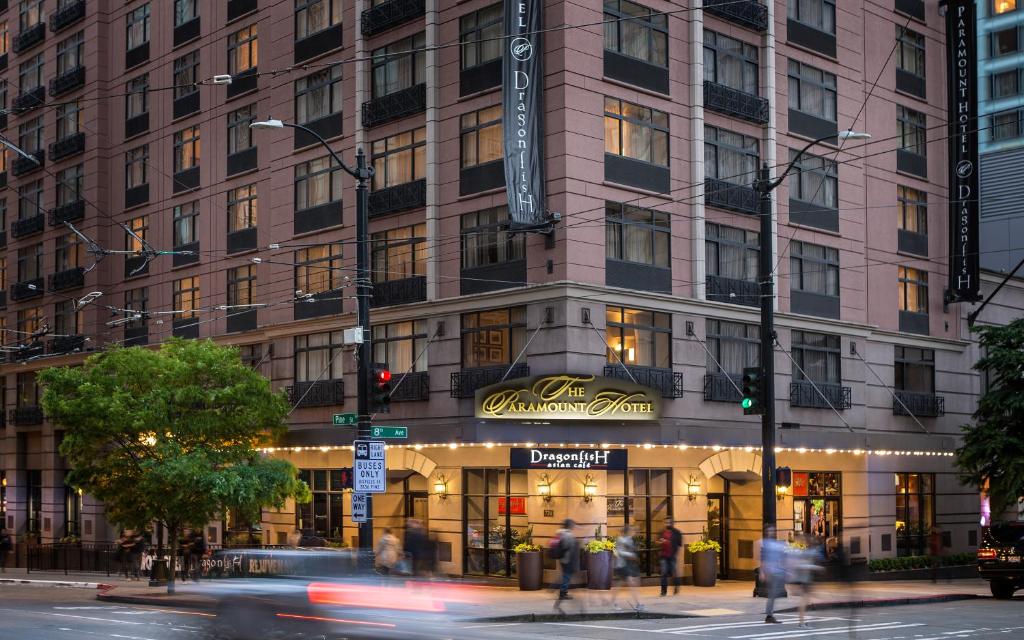 🛌 Check prices and availability here.
When to Visit Seattle
Summer temperatures in Seattle are much warmer than the rest of the year, making June, July, and August some of the best (and most popular!) months to visit.
June is still not the peak season, so if you want to enjoy better prices and smaller crowds (with slightly cooler temperatures and a higher chance of rain), this is the best summer month to come.
If you don't mind traveling during the peak summer months and want to guarantee warm temperatures and dry skies, it's best to plan your trip for July or August.
As an alternative to the summer, September and October are great "shoulder season" months to visit Seattle.
You can still enjoy many of the best summer events and activities in Seattle (and warm, sunny weather!) without the crowds and high prices.
FAQs about Seattle in Summer
What is the best summer month in Seattle?

The best summer months in Seattle are July and August are typically the warmest and driest. 


Is summer a good time to visit Seattle?

Absolutely, it's an ideal time with pleasant weather and numerous events.


Is Seattle sunny in the summer?

Yes, Seattle typically enjoys many sunny days in summer.


How is the Seattle weather in July?

The Seattle weather in July is usually warm and dry with temperatures in the 70s°F.


Is Seattle humid in the summer?

No, Seattle's summer climate is relatively dry.


How hot does it get in Seattle in the summer?

Summer temperatures in Seattle typically range from the high 60s to mid-80s°F.


What is the summer like in Seattle?

The Summer in Seattle is pleasantly warm, less rainy, and filled with outdoor activities.


Is Seattle good to visit in the summer?

Definitely, with great weather and numerous events.


What is there to do in Seattle in the summer?

There are lots of things to do in Seattle in the summer! Enjoy festivals, outdoor activities, beaches, and parks.


Is Seattle Nice in the summer?

Yes, it's one of the best seasons to enjoy the city.


What should I wear in Seattle in the summer?

In Seattle, in summer you should wear light layers, a light jacket for evenings, and comfortable shoes.


How do people dress in Seattle in July?

People in Seattle in July dress in casual summer attire is common, with a light sweater for cooler nights.


What time does it get dark in Seattle in the summer?

Sunset in Seattle in summer is late, around 9 PM.


How warm does Seattle get in the summer?

Daytime highs average in the 70s-80s°F.


Does Seattle have beaches?

Yes, Seattle has beaches! Alki Beach and Golden Gardens are the most popular.


Is Seattle busy in the summer?

Seattle can be busy in the summer, due to tourists and numerous local events.

Final Thoughts about Seattle in Summer
Seattle truly comes alive during the sunny summer days, making it the perfect time for exploration and fun.
The list of summer activities in Seattle is endless!
Enjoy a leisurely day at Lake Washington, explore the vibrant Seattle Center, or soak in art at the Olympic Sculpture Park. Every sunny day offers something new and exciting!
So whether you're a first-time visitor or a long-time resident, don't miss out on the array of things to do in Seattle in summer and dive headfirst into the sea of summer fun.
The Emerald City eagerly awaits you!
Which of these summer activities would be first on your list?
---
Like this post? Pin it!