Looking for free things to do in Seattle? I've got you covered!
In this post, I will tell you the best ways to explore the Emerald City without breaking the bank with free and budget-friendly activities.
Seattle WA is definitely one of the most beautiful places to visit in the United States, and also one of the most expensive. But if you do your research you will find that there are loads of free things to do in Seattle.
I have lived in Seattle for over 6 years making me the expert in finding things to do that won't break the bank!
If you want to explore all the free activities in Seattle, Melissa, a solo travel enthusiast who lives in Seattle, and runs the travel site A Solo Woman Traveling, will show you some of her favorite things to do in Seattle for free!
The key to most of these free things to do in Seattle will require some decent weather. It doesn't have to be dry, but it should be mild.
Get ready to explore this beautiful city without spending a dime!
Free Things To Do in Seattle
1. Visit Pike Place Market
Yes, I am starting off with the most obvious free activities in Seattle. Pike Place Market really is worth visiting even though touristy and sometimes overcrowded.
The key to visiting Pike Place Market is to go in the morning. It is a great way to beat the crowds.
I promise you the market isn't just for tourists. Even though I live here I often visit the market to pick up locally-made goods and flowers and fresh fish.
One of the fun cheap things to do here is get a coffee at the original Starbucks and make your way from the market to Pioneer Square!
Looking for what to do in Seattle for free in the market? Why not try and catch a fish? Just ask at the counter, it's great fun!
2. Pioneer Square
One of my favorite free things to do in downtown Seattle is to check out the architecture in Pioneer Square.
History lovers will enjoy all the things to see in Seattle for free. Some of the most historic buildings are located in Pioneer Square such as Smith Tower. A unique skyscraper built in 1914, and the Pioneer Building, an iconic landmark that's been around since 1892.
From Victorian-style structures to Art Deco masterpieces, there's something for everyone to admire here.
If you were looking for inexpensive things to do in Seattle, take this Underground Tour! It is the famous walking tour that takes you below to the original city before the Seattle Fire.
3. Get Lost in the Arboretum
A free thing to do in Seattle that not everyone has the chance to experience in Seattle is the Arboretum.
Visiting the Washington Park Arboretum won't cost a dime!
Located on the shores of Lake Washington, this 230-acre park is full of natural wonders. This is one of the best free things to do with kids in Seattle.
Take a stroll through its trails and gardens, or marvel at the rare and exotic plants. If it's a nice day, just relax by one of the many tranquil ponds.
The best time to visit the Arboretum is in the spring when everything is blooming, but there is a good chance it could be drizzly. As long as it's not cold it's one of the best free things to do in Seattle.
4. Climb the Tower at Volunteer Park
If you are looking for a little exercise and some great views in Seattle you can climb the Water Tower!
Now, these views are not going to be as good as the top of the Space Needle, but these views are FREE!
The observation deck is open daily from dawn to dusk. This is a great place to come for the sunset. You will have west-facing views and a direct shot of the space needle!
Also located in Volunteer Park are the Conservatory and Seattle Asian Art Museum. Neither are free attractions in Seattle, but the admission prices are low.
If you are visiting Seattle in the summer, be sure to have a look at the outdoor concert schedule. This is one of the best free places to visit in Seattle for music lovers.
5. Sculpture Park, one of the best things to do in Seattle for free
A fun and unique way to spend an afternoon in Seattle, especially if it's dry, is to visit the Olympic Sculpture Park.
It's a 9-acre outdoor art museum and is one of the city's most eye-catching and inspiring places.
Explore the world's most extensive collection of Alexander Calder mobiles or stroll along the waterfront to take in the stunning views of Seattle.
You don't have to be an art lover to enjoy one of the best things to do in Seattle for free!
6. Fremont Troll
Visiting the Fremont Troll is one of the top free things to do in Seattle!
Located under the Aurora Bridge in Fremont, this enormous sculpture was built in 1990 by four local artists.
The troll towers an impressive 18 feet tall, and can often be seen with a real Volkswagen Beetle clutched firmly in its hand.
If you are into unique art and culture visiting the Fremont Troll is one of the fun free things to do in Seattle.
A memorable experience for all who visit, I've been known to snap a selfie with the troll – it's an Instagram-worthy thing to do!
7. Gas Works Park
If you are looking for free things to do with kids in Seattle then be sure to head on over to Gas Works Park!
This free park has so much to offer to anyone in Seattle! Not only does it have some of the best views of Lake Union and downtown Seattle, but there is also a playground for kids!
Located just a 17-minute walk from the Fremont Troll, it is a must see when looking for fun free things to do in Seattle.
I have watched the fireworks at Gas Works almost every year that I have lived in Seattle so if the weather is excellent plan to make a day of it!
8. Kerry Park, one of the best free activities in Seattle
Kerry Park in Seattle is famous for being the backdrop of one of television's most beloved series – Grey's Anatomy And it's a must in your one day in Seattle itinerary! .
Fans of the show will recognize Kerry Park from some of the iconic outdoor scenes featuring Meredith and Derek, making it a must-see destination for fans visiting Seattle.
Located on Queen Anne Hill, this park offers some truly spectacular views of the city skyline and the surrounding mountains. Best of all, it's completely free!
Parking can be a little challenging in the Queen Anne Neighborhood. I recommend taking public transport if possible.
9. Seattle Farmers Market
For things to do in Seattle that won't break the bank, visit a Seattle Farmers Market. A fun, free activity for all ages that draws locals and tourists alike for its wide array of fresh produce, handmade crafts, and delicious food.
Not only does Seattle Farmers Market offer a great place to support local farmers you can also find unique handmade jewelry and other home goods.
Here's a list of Seattle's Neighborhood farmer's markets and their unique features:
Ballard Farmer's Market: Year-round market with fresh produce, artisanal foods, and crafts from local vendors.
University District Farmer's Market: Wide selection of fruits, vegetables, flowers, and artisanal products, as well as cooking demonstrations and live music.
West Seattle Farmer's Market: Focuses on organic and sustainably grown produce.
Columbia City Farmer's Market: Locally-sourced goods from produce to honey, as well as live music and cooking demos.
Lake City Farmer's Market: Locally grown produce and handmade crafts from Seattle-area vendors.
Magnolia Farmer's Market: Fresh fruits and vegetables, baked goods, and artisanal products from local farmers and vendors.
Phinney Farmers Market: Wide selection of fresh fruits and vegetables, meats, cheeses, and more, as well as live music and food trucks.
10. Seattle Art Museum
If you're an art lover, visiting the Seattle Art Museum is a must-do activity when in Seattle.
And if you're looking to save some money, mark your calendar for the first Thursday of the month when there is free admission!
You'll have the opportunity to explore the museum's vast collection of contemporary and traditional art, including works by world-renowned artists such as Monet, Picasso, and Warhol.
Plus, the museum regularly hosts special exhibitions and events that showcase a range of artistic styles and cultures.
11. Seattle Street Art
Seattle is a city that prides itself on its vibrant art scene, and its murals and street art are no exception.
Exploring the city's colorful walls and alleys is one of the best free fun things to do in Seattle.
From the iconic Gum Wall in Post Alley and DFace in 2112 1st Avenue to the massive murals in the Capitol Hill and Ballard neighborhoods, there is no shortage of visually stunning works to discover.
Some of my favorites are located in Pioneer Square, and you don't want to miss the beautiful mural at 102 Pike Street. You can find the most important Seattle murals on this website.
Plus, the city regularly hosts mural festivals and street art events, showcasing the talent and creativity of local and international artists.
Don't miss the opportunity to immerse yourself in Seattle's unique and inspiring street art scene.
12. Go for a Hike
Seattle is surrounded by some of the most breathtaking natural scenery in Washington state, making hiking one of the best things to do for free in the area.
From the stunning views of Puget Sound at Discovery Park to the rugged terrain of the Olympic Mountains, there is no shortage of awe-inspiring trails to explore.
For a more challenging adventure, head to the iconic Mount Rainier or one of the nearby national parks, where you can hike among glaciers, waterfalls, and towering peaks.
Whether you're a seasoned hiker or just looking for a leisurely stroll, the hiking trails near Seattle offer an opportunity to connect with nature and experience the beauty of the Pacific Northwest.
13. The Center for Wooden Boats, one of the unique free attractions in Seattle
If you're looking for a unique and free experience in Seattle, head over to The Center for Wooden Boats.
Located on the shores of Lake Union, this non-profit organization offers free one-hour rentals of wooden rowboats for up to four adults.
These boats are perfect for both experienced and novice rowers and provide a fun way to explore the stunning views of the lake and the city skyline.
The free program is available Wednesday-Sunday, all year long, but it's recommended to book in advance as slots tend to fill up quickly. Take advantage of this memorable and free experience in Seattle!
14. Ballard Locks Fish Ladder, one of the best free things to do in Seattle
One of the best free things to do in Seattle is visit the Ballard Locks. This impressive engineering feat connects the saltwater of Puget Sound with the freshwater of Lake Union and Lake Washington.
Not only are the admission to the locks free, but the grounds, including the fish ladder, are open every day from 7 am to 9 pm.
For those interested in learning more about the history and operation of the locks, free public scheduled walking tours are available, starting at the visitor center and lasting about an hour.
It's no wonder why the Ballard Locks is a designated National Historic Site and a must-see attraction in Seattle.
15. West Point Lighthouse
The West Point Lighthouse is one of the many free attractions that Seattle has to offer.
Located on a bluff overlooking Puget Sound, this charming lighthouse boasts stunning views and is a popular spot for photos.
To visit the lighthouse, start at the Visitor Center where they can direct you to the walking trails that lead down to the beach and lighthouse.
Admission is free, and visitors can explore the grounds and enjoy the picturesque views.
As one of the 18 active lighthouses in Washington State, the West Point Lighthouse is not only a beautiful landmark but also an important navigational aid for boaters and ships entering Seattle's harbor.
Best Time to Visit Seattle
Without a doubt, the best time to visit Seattle is July through September. No other US destinations will you have dry conditions with the perfect temperatures.
The locals want you to think it rains 12 months of the year, but that simply isn't true. If you are able to visit in the summer months all the free things to do in Seattle will be that much more amazing.
If you aren't able to visit Seattle in the summer don't worry, there are lots of things to do in spring in fall.
I don't recommend visiting in the winter, as not ideal to be outside and do all the free Seattle activities I will list below.
How To Get Around Seattle
Arriving at Seattle airport
If you are arriving in Seattle from the SeaTac Airport and are on a budget then I have good news for you! The light rail in Seattle goes directly from the airport into the most desirable neighborhoods in Seattle.
The only exception is the Ballard neighborhood, though Seattle is working on extending the light rail to Ballard it is not quite there yet.
If you do decide to stay in Ballard and want to utilize the light rail, you will need to connect from downtown Seattle via the D-line bus that will take you to Ballard.
Taxis, Ubers, and Lifts in Seattle
Bad news for those of you who don't want to take public transit. Uber and other taxi-related services are not very affordable in my opinion. I have paid as much as $75 from the core of Seattle to the airport.
I highly recommend taking public transportation if possible!
Buses & Seattle Lightrail
The buses in Seattle, as well as the Lightrail, aren't free, but they are affordable! I recommend you purchase an ORCA card upon arrival if you plan to travel around the city.
More often than not it will be a bus that will get you from point A to point B. For the Seattle Transit information, click here.
Seattle by Bike
If you're looking for something a bit more adventurous, consider biking around the city. Renting a bike is an affordable option and it can be a great way to explore the city.
Check out the Burke Gilman Bike Trail!
It runs throughout the north side of Seattle and can take you as far north as the wineries in Woodinville and as far west as the Golden Gardens beach in Ballard!
Seattle Water Taxi
Finally, Seattle also offers some unique transportation options like the Water Taxi, which runs from downtown Seattle to West Seattle.
This can be a great way to experience the city from a different perspective – and it's free if you have an ORCA card!
Is Seattle Walkable?
Seattle is a fairly walkable city, but if you want to visit all the free things to do in Seattle you will need to take some sort of transportation to get there.
However, there is tons of free stuff to do in Seattle if you stay downtown that is walkable from each other. Pioneer Square, Capitol Hill, and downtown Seattle are within walking distance of each other.
The other walkable neighborhoods are Ballard and Fremont. The distance between each area is about 45 minutes on foot.
Where to stay in Seattle
Seattle has several budget-friendly accommodation options, including hostels, motels, and budget hotels.
To get the best bang for your buck in Seattle I suggest staying in Downtown Seattle. This is where most hotels are and unless you are renting a car, you can see the most on foot.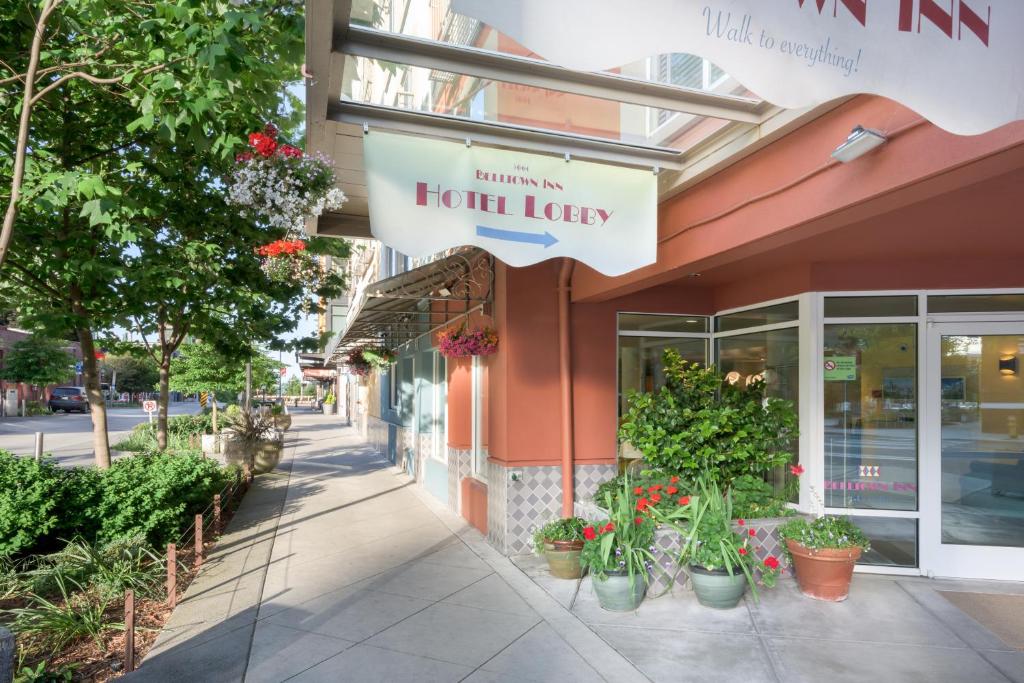 Downtown Seattle has several affordable options, such as the Green Tortoise Hostel, and the Belltown Inn.
Some of the reasonably priced hotels in Seattle that I recommend are:
For those looking to stay outside of downtown, there are also budget hotels in neighborhoods like University District, Capitol Hill, and Ballard.
Additionally, staying in neighboring cities like Bellevue or Renton and commuting into Seattle via public transportation can also save money.
Travel Tips for enjoying what to Do in Seattle for free
I'm sharing some travel tips for enjoying what to do in Seattle for free, so you can make the most of your trip without breaking the bank.
Pack for all seasons – Seattle's weather can change in an instant, so make sure to pack layers and rain gear. Don't miss these Seattle packing hacks.
Get out on the water – Seattle has some of the most beautiful and vibrant waterfronts in the world. Make sure to get out on a boat or ferry and take in all that nature has to offer.
Take advantage of free tours: Many museums and attractions offer free tours, so take advantage of them to learn more about the city.
Attend free events: Check out the city's calendar of free events, such as concerts, festivals, and art shows.
Enjoy the outdoors: Seattle has many beautiful parks and outdoor spaces to explore, such as Discovery Park, Green Lake, and Volunteer Park.
Explore Pike Place Market – Back to my number one suggestion of free things to do in Seattle! I mean, if you didn't visit the market did you even really visit Seattle?
Remember your umbrella – Umbrellas are a must in Seattle, but only for tourists! You can tell the locals from the tourists in Seattle by who uses an umbrella. If it's a light drizzle you can go without, only in an all-out downpour do I use an umbrella in Seattle!
Final Thoughts on Free Stuff to Do in Seattle
Seattle is a city full of surprises, and its abundance of free activities is just one of them.
From hiking in the mountains to exploring local art, there's no shortage of things to do in Seattle for free.
Whether you're a local or a tourist, these free attractions offer a chance to experience the best of Seattle without breaking the bank.
So, grab your walking shoes and head out to discover the beauty and excitement of Seattle's free activities.
Don't forget to take advantage of the many opportunities to enjoy this vibrant city without spending a dime.
FAQS Free things to do in Seattle
What can you do for free in Seattle?

Visit museums on free days, hike mountains, explore parks, attend cultural events, admire murals, stroll farmer's markets, and more.

Is the Seattle Art Museum free?

Seattle Art Museum is free on the first Thursday of the month.

Is Seattle Public Library free?

Yes, Seattle Public Library is free to use for Seattle residents and visitors.

Is Seattle Japanese Garden free?

Seattle Japanese Garden is free on the first Thursday and the first Saturday of each month.

Is the Seattle light rail free?

Seattle light rail is not entirely free but offers a free ride area in downtown Seattle during certain hours. Outside this zone, fares apply.

Is the ferry free in Seattle?

The ferry in Seattle is not entirely free, but there are certain ferry routes and times when passengers can ride for free without a fare.

Is the Seattle Arboretum free?

Yes, the Seattle Arboretum is free to visit. However, there is a fee for parking.

Is Discovery Park Seattle free?

Yes, Discovery Park in Seattle is free to visit and explore.

Is the Seattle Selfie Museum free?

No, the Seattle Selfie Museum charges an admission fee for entry.

Is the Seattle Water Taxi free?

No, the Seattle Water Taxi is not entirely free. However, it is included in the Puget Pass, which provides unlimited rides on King County Metro Transit buses, Seattle Streetcars, Sound Transit light rail, and more.

Is there free parking in downtown Seattle?

Finding free parking in downtown Seattle can be challenging, but there are some options available such as street parking after 6 pm or on Sundays, or free parking with validation from nearby businesses. 

Is street parking free in Seattle right now?

Some areas have free street parking during certain hours, while others require payment at all times. Always check the parking signs and regulations carefully to avoid getting a ticket.

Are there any free things to do in Seattle at night?

Yes, there are several free things to do in Seattle at night, such as stargazing at the Volunteer Park Conservatory, exploring Pike Place Market, and taking a self-guided walking tour of the city's art installations.

What are the free things to do in Seattle in winter?

Some free things to do in Seattle during winter include visiting the Seattle Art Museum on First Thursdays, exploring the city's parks, attending holiday events, and checking out the Christmas lights at Westlake Center.

What are the free things to do in Seattle on a rainy day?

Visit museums like the Frye Art Museum or MOHAI, explore the Seattle Central Library, try indoor rock climbing at Seattle Bouldering Project, go to the Pacific Science Center, or shop at Pike Place Market, which is mostly indoors.
---
Like this post? Pin it!