Looking for fun things to do in Milwaukee for couples? You've come to the right place!
In this post, I'll explore the most romantic things to do in Milwaukee, ensuring you have a memorable time together.
If you're in search of Milwaukee date ideas to spark up some romance with that special someone, this city has something to suit every couple's taste.
From luxurious hotels with private hot tubs to ice skating and river tours, the vibrant city of Milwaukee really has it going on in the romance department!
Set right on the picturesque backdrop of Lake Michigan, Milwaukee is the largest city in Wisconsin, USA, and offers a range of historical and cultural attractions for visitors to explore.
All this makes it the ideal city for couples, so if you're visiting with your significant other or on your honeymoon, Milwaukee will not disappoint!
After reading this list, you'll be ready to plan your dream romantic getaway with that special someone and experience all the romance Milwaukee has to offer!
Now, sit back with your partner, relax, and stay tuned for the very best fun things for couples to do in Milwaukee!
Fun Things to Do in Milwaukee For Couples
1. Stay in a hotel with a hot tub in room
Does anything sound more romantic or relaxing than staying in a beautiful Milwaukee hotel room with your own private hot tub inside?
Imagine having your own private oasis where you can unwind and relax after a day of exploring the city. The hot tub provides a soothing retreat, allowing you to alleviate any travel-related stress or fatigue.
Grab a bottle of champagne and indulge in the luxury of a hot tub together in complete privacy. Order some delicious room service, kick back with a movie, and bask in the glory of being on vacation with the one you love!
Check out this list of the best Milwaukee hotels with in-room hot tubs to plan the perfect escape with your partner while enjoying one of the most romantic things to do in Milwaukee!
2. Outsider Rooftop Bar
Fancy a delightful cocktail with your date while on a rooftop over one of Milwaukee's trendiest neighborhoods, the Historic Third Ward?
Its six unique indoor and outdoor areas and retractable glass walls make the stunning Outsider Rooftop Bar the perfect spot for date night in Milwaukee!
Boasting elegant lighting, daybeds, a retractable trellis, and fire pits with blankets to cuddle up to your lover with, this modern and sophisticated bar is the place to be in any season. Plus, this rooftop gem offers breathtaking panoramic views of the Milwaukee skyline!
Located on the rooftop of the Kimpton Journeyman Hotel, this is a great option for grabbing a cocktail or an indulgent dessert after dinner!
Sip on expertly crafted cocktails while enjoying the lively atmosphere and soaking in the stunning vistas. Personally, I loved the Outsider Garden Spritz, a refreshing cocktail perfect for watching the sunset.
The bar also features a delectable menu with a variety of mouthwatering dishes, making it an ideal spot for both drinks and dining. If you're going for a snack, I recommend the Crispy Fish Tacos and the Truffle Fries, a delight!
Top off your evening with a leisurely stroll through the surrounding neighborhood where you'll find charming shops, cafes, and bars!
🛏️ If you want to stay at the Kimpton Journeyman Hotel, click here to check hotel availability for the dates of your visit.
3. Lux Dome at Cafe Benelux
Nothing says classic romance like a dreamy candlelit dinner.
If you really want to step it up a notch and impress your date, check out the Lux Domes at Benelux Café, located just down the road from the Outsider.
These heated domes are only open during the winter, creating the coziest, most romantic atmosphere.
Reserving a Lux Dome is $150 and will get you a private heated, decorated dome, with a speaker for 90 minutes and two beverages to enjoy before a unique outdoor dining experience you will never forget!
For food, I loved the Artisan Cheese Platter that comes with different types of cheeses (the double cream brie is a delight!), fruit, jams, and bread.
But if you are more of a sweet tooth, you will love the Dessert Platter with chocolate mousse, cake pop bites, and freshly baked cookies! I was really looking forward to trying it when I went there.
Book one of these one-of-a-kind Lux Domes for one of the most fun things to do in Milwaukee for couples in the winter months.
4. Romantic Photo Session with a Local Photographer
With its gorgeous backdrop of Lake Michigan and stunning skyline, Milwaukee provides no shortage of breathtaking photo opportunities.
To remember your time in Milwaukee, a romantic photo session is a beautiful way to capture those moments forever. Trust me, it's an experience you won't want to miss!
Check out this private photo session with a local photographer in Milwaukee who will take you to the city's most picturesque sites to capture high-quality, professional photos to capture those precious moments with you and your partner.
From the moment you reach out to the photographer, you'll feel their passion for capturing the essence of the city and creating breathtaking memories for you.
They go above and beyond to make your session personalized and seamless, taking care of every detail.
They have an incredible eye for scouting the best locations, ensuring you have a diverse and stunning backdrop for your photos.
Not sure what to wear? No worries! They provide helpful suggestions, making sure you look and feel your best.
And here's the best part: within just 4 work days, you'll receive your edited HD pictures, perfectly encapsulating the magic of your time in Milwaukee.
It's a wonderful way to cherish and share your experiences with loved ones. Plus, with their 100% money-back satisfaction guarantee, you can have peace of mind knowing that your happiness is their top priority.
Whether you choose the 30, 60, or 100-minute photoshoot, this personalized and professional experience will undoubtedly exceed your expectations and leave you with cherished memories to last a lifetime.
📸 Check availability for this amazing private photo session with a local photographer in Milwaukee.
Don't forget to create that romantic keepsake to look back on and daydream about your time together in Milwaukee!
5. Swan Paddle Boats in Veteran's Park
Looking to get a little more adventurous with your date ideas in Milwaukee?
Renting an LED-illuminated swan paddle boat and paddling out under the stars on the lagoon in Veteran's Park is one of the most romantic things to do in Milwaukee.
Cuddling up with your date and a blanket under the beautiful Wisconsin sky while out on the water? What could be better?
Veteran's Park is a beautiful space on the water, so paddling out during the day is just as enjoyable and you can explore the park itself when you're done!
Rental is $30 for 1 hour and night rides are available seasonally.
It's a picture-perfect setting that combines fun, relaxation, and a touch of whimsy. Create unforgettable memories as you enjoy the beautiful views and gentle breeze.
6. Boat Cruise on the Milwaukee River
Milwaukee has so many things to see, and one of the best ways to really explore the city with the one you love is to take a boat cruise on the Milwaukee River.
There are plenty of local boat rentals, kayak rentals, and boat tours available and you can see sights such as the Milwaukee Riverwalk, the Historic Third Ward, and the Milwaukee Art Museum, as well as the stunning Milwaukee skyline from a completely different perspective! 
Savor breathtaking views, enjoy the gentle sway of the boat, and immerse yourselves in the city's charm. From sunset cruises to themed outings, there's a boat cruise for every couple seeking a memorable date night.
Combine one of these tours with a romantic meal or cocktail to really wow your date!
A romantic boat tour cruising the scenic Milwaukee River is definitely one of the best things to do in Milwaukee for couples!
7. Milwaukee Walking Tasting Tour
Looking for more cultural, yet fun date ideas in Milwaukee? Bring your date along to this Walking Tasting Tour!
Located smack-bang in the Midwest, Milwaukee is famous for its breweries and cheesemaking, and this tour will bring you to taste the best of the best that Milwaukee has to offer.
Not only is this the best way to sample Milwaukee's top beer and regional snacks, but it's also a beautiful way to explore the city and learn about its history and how its cuisine has been influenced and shaped over the years.
What a treat! Great way to get to know Milwaukee through food in a few short hours. Highly recommend the tour. – Melisa (read more reviews here).
Along with the tour and professional guide, you will also get included a Schlitz battered cod fry, fried cheese curds, with dipping sauces, a hometown sausage made with a classic 19th-century recipe, a German chocolate cake with pecans and coconut as well as a secret dish!
🍴 Check availability for this fun 4-hour tasting tour with a local guide in Milwaukee.
8. Movie at the Starry Avalon Theater
Some nights it's just too chilly to sit out under the real stars, and that's why the Starry Avalon Theater brings the night sky indoors!
Located on Kinnickinic Avenue, in a charming area, the historic Avalon Theater is an atmospheric theater with stars on the ceiling specifically designed to create a romantic environment. 
The Starry Avalon Theater offers a unique and intimate atmosphere, perfect for snuggling up and enjoying a captivating movie. With its carefully curated selection of films and comfortable seating, it's the ideal spot for a romantic night out.
So, grab some popcorn (or even a stone-fired pizza) and settle in with your favorite person to watch a great film under the stars. The Starry Avalon makes for one of the top indoor date ideas in Milwaukee!
9. Stroll the Riverwalk
The Milwaukee Riverwalk is a must-do for couples when visiting this historic city and is the perfect after-dinner activity.
Strolling along after that romantic dinner or lunch to soak up the ambiance of the city and witness the impressive architecture of its riverside buildings.
There are plenty of idyllic places to stop and rest on a bench and watch the boats drifting lazily down the river, or pop into one of the many bars or cafes for a rest.
As you meander along this picturesque pathway, you'll encounter the outdoor art gallery known as RiverSculpture, showcasing captivating sculptures that add an artistic touch to your romantic stroll.
Don't forget to pay a visit to the Bronze Fonz, a bronze statue paying homage to Arthur Fonzarelli, capturing a moment of nostalgia and offering a unique photo opportunity.
Indulge in culinary delights at the Milwaukee Public Market, where you can savor delicious treats and explore local flavors together.
For a cozy ambiance, head to the Beerline Cafe, a charming spot to enjoy a cup of coffee and delightful conversation.
If you're up for an adventure, consider renting kayaks or canoes to explore the river at your own pace. And if you're lucky enough to be in town in mid-September, make sure to catch the thrilling annual Milwaukee River Challenge, where rowing teams compete on the river, providing an exciting spectacle.
The Milwaukee Riverwalk offers a romantic escapade filled with art, culinary delights, adventure, and unforgettable moments for couples to cherish.
A peaceful jaunt with your loved one along the famous Riverwalk is hands down one of the most romantic things to do in Milwaukee for couples!
10. Milwaukee Public Market
Next up on this list is the Milwaukee Public Market, mentioned above.
Did you know that Milwaukee has become in recent years one of the top foodie destinations in the United States that you can't miss?
A bustling market filled with Milwaukee's local artisan foods, this is a great place to buy some souvenirs to bring back home and to sample some of the region's ethnic cuisine!
The second floor features a Palm Garden where you can enjoy some of the food products you purchase and even offers a number of different cooking classes in the Mandame Kuony Demonstration Kitchen. 
Explore the vibrant stalls, sample mouthwatering cuisine, and discover hidden culinary gems together. From gourmet cheeses to fresh seafood and delectable desserts, there's something to delight every palate.
There is so much to see and do and taste, making this unique and energetic market one of the most fun date ideas in Milwaukee!
You just know that no date night is complete without ice cream.
Purple Door Ice Cream is Milwaukee's number one ice cream parlor and it enjoys that title for good reason.
Offering unusual, yet delicious flavors such as whiskey, cinnamon, and the crowd-favorite salted caramel to its clients, this is no run-of-the-mill ice cream shop. Personally, my favorite is mint cookies and cream. So delicious!
They are constantly creating and churning out new flavors with each coming season, so customers never know what to expect.
Some of the newer flavors include Lemon Meringue Pie and Blackberry cornbread, so stop in with your partner and try some of these unique yet delicious flavors.
12. Skating at the Red Arrow Park
Slice of Ice in Red Arrow Park is one of the best Milwaukee date night ideas on my list. It's even bigger than New York City's world-famous Rockefeller Center!
If you already own some skates, it's free and there is an on-site warming hut you can warm up with your significant other on breaks.
Visit during the holiday season to get the most cozy, romantic atmosphere, when the park is full of fairy lights and Christmas decorations!
If you're visiting in the warmer months, the park is now open during summer for roller skating, meaning this fun date activity can be enjoyed year-round no matter the temperature!
13. Milwaukee Art Museum
The Milwaukee Art Museum is the largest art museum in Wisconsin with over 30,000 artworks inside its walls, including works by world-famous artists such as Pablo Picasso and Andy Warhol.
The building in itself is also a work of art with a stunning architectural design resembling a bird taking flight.
It is called the Quadracci Pavilion and was designed by the Spanish architect Santiago Calatrava and completed in 2001.
Spending a thoughtful afternoon wandering around this impressive art museum with your special someone is a beautiful way to enjoy some meaningful quality time together.
The museum is located right on the water and even features a café and a rooftop which you can head up to enjoy a dazzling of Lake Michigan and the city.
All this means that it's no question that a visit to the MAM is one of the most romantic things for couples to do in Milwaukee!
The museum is open Wednesday through Sunday, and admission is $22 (children under 12 are free).
14. North Point Lighthouse
A trip to the North Point Lighthouse & Museum is one of the best Milwaukee date ideas.
First built in 1855, this beautiful structure is teeming with history and romance.
Stop by the museum to read about the history of the lighthouse and Milwaukee's maritime history and see old artifacts.
Nestled on a bluff with a spectacular view over Lake Michigan, climbing the 74-foot tall tower to the top together is the perfect way to create those romantic memories with your beloved.
The lighthouse is open Sat-Sun from 1 to 4 pm and admission is $8.
⭐ Book this Skip the Line Admission Ticket and enjoy the lighthouse without waiting in line.
After exploring the lighthouse, you can continue walking through 138-acre Lake Park where the lighthouse is situated.
Personally, I had a romantic picnic by the lake, where me and my partner enjoyed each other's company while soaking up the beautiful surroundings. So romantic!
15. Mitchell Park Domes
And finally, one of the best places to go in Milwaukee for romance and to get lost in the incredible world of plants is the Mitchell Park Horticultural Conservatory also known as the Mitchell Park Domes.
Each of its three impressive domes showcases plants from around the world in different climates with a Desert Dome, Floral Show Dome, and Tropical Dome.
The park and the domes both have a rich history with the original conservatory opening way back in 1899 and the more modern domes being constructed in 1967.
This is a truly unique experience to bring your partner along to and allows you to marvel at the wonders of nature without having to leave the city!
The domes are open year-round and open from 9-5 every day except Tuesday. Admission is $9 (children under 2 years old are free).
Other Date Ideas in Milwaukee
Looking for more date ideas in Milwaukee? Look no further! There are plenty of exciting options to explore:
Immerse yourselves in history and culture at the Milwaukee Public Museum and the Pabst Mansion, both great places for a unique and educational experience.
For motorcycle enthusiasts, the Harley-Davidson Museum is an excellent place to visit.
If you're a music lover, catch a performance by the talented Milwaukee Symphony Orchestra.
For a dose of sports and entertainment, head to Miller Park to catch a Milwaukee Brewers game.
Enjoy a leisurely stroll through Lakeshore State Park, offering beautiful views of Lake Michigan.
Indulge in some delicious chocolates at Indulgence Chocolatiers or grab a hot chocolate at one of the best restaurants in the area.
For a fun outdoor activity, visit Bradford Beach and enjoy the sun, sand, and water.
Bryant's Cocktail Lounge is an ideal place for a romantic night out with its retro ambiance and creative libations.
Don't forget to explore the vibrant art galleries and attend special events happening in the heart of downtown Milwaukee.
And if you're looking for a breathtaking view, visit the Rose Garden and the beautiful lakefront brewery.
With its diverse range of attractions and outdoor activities, Milwaukee offers the perfect setting for a memorable date, whether it's a first date or a special Saturday night together.
Most Romantic Places in Milwaukee
Whether you're a local looking to spice up your relationship or a visitor seeking a romantic getaway, Milwaukee has a plethora of enchanting spots that are sure to ignite the flame of love.
From picturesque parks to cozy restaurants and scenic waterfronts, these are the most romantic places in Milwaukee that will set the stage for unforgettable moments with your partner:
Milwaukee Art Museum
With its stunning architecture and breathtaking views of Lake Michigan, the Milwaukee Art Museum sets the stage for a romantic outing. Explore the impressive art collection and enjoy the serene beauty of the surroundings.
Villa Terrace Decorative Arts Museum
This Italian Renaissance-style villa boasts beautiful gardens and a terrace overlooking Lake Michigan. Take a leisurely stroll through the garden and revel in the tranquility of this hidden gem.
Boerner Botanical Gardens
Escape to this oasis of natural beauty, featuring lush gardens, colorful flowers, and serene paths. Pack a picnic and enjoy a romantic meal amidst the picturesque surroundings.
Lake Park
Nestled along the shore of Lake Michigan, Lake Park offers a romantic setting with its expansive green spaces, walking trails, and breathtaking lake views.
Take a leisurely walk hand-in-hand or find a cozy spot to watch the sunset.
The Iron Horse Hotel exudes elegance and charm, making it a perfect retreat for a romantic getaway.
Enjoy the luxurious amenities, dine in the acclaimed restaurant, and savor intimate moments in this stylish setting.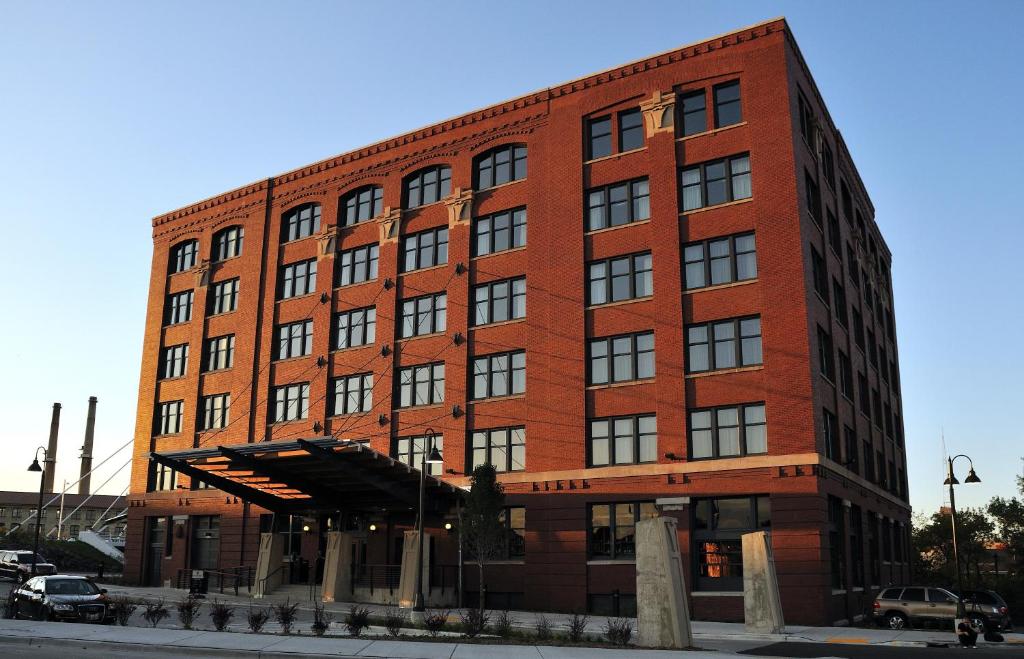 🛏️ Check prices & availability in The Iron Horse Hotel here
The Milwaukee Riverwalk
This scenic pathway along the Milwaukee River offers a romantic setting for a leisurely stroll. Enjoy the riverside views, charming cafes, and the calming sound of flowing water.
Charles Allis Art Museum
Housed in a Tudor-style mansion, this museum showcases an impressive collection of art and decorative pieces. Explore the exhibits hand-in-hand and immerse yourselves in the beauty of the surroundings.
Lakefront Brewery
For beer-loving couples, a visit to Lakefront Brewery is a must. Take a brewery tour, sample their craft beers, and enjoy each other's company in a laid-back and fun atmosphere.
The Domes
Step into a world of beauty and tranquility at the Mitchell Park Horticultural Conservatory, also known as The Domes. Explore the three distinct domes showcasing different climates and enjoy the vibrant plant life together.
The Bartolotta's Lake Park Bistro
Indulge in a romantic dining experience at this renowned French restaurant. With its elegant ambiance, exquisite cuisine, and beautiful lake views, it's the perfect place for a special occasion or a romantic dinner.
FAQs about the Most Romantic Things to Do in Milwaukee
What can couples do in Milwaukee?

Couples in Milwaukee can enjoy scenic walks along the Riverwalk, explore art museums, indulge in brewery tours, and savor romantic dinners.

Is Milwaukee romantic?

Milwaukee offers a touch of romance with its beautiful lakefront views, charming parks, and cozy dining spots.

Is Milwaukee worth visiting for couples?

Milwaukee is definitely worth visiting for couples, with its romantic ambiance, diverse activities, and vibrant city atmosphere.

What are the best date ideas in Milwaukee?

Best date ideas in Milwaukee include visiting the Milwaukee Public Market, exploring the Harley-Davidson Museum, and catching live music performances.

What are some fun things to do in Milwaukee for couples in winter?

In winter, couples can enjoy ice skating at Red Arrow Park, attending holiday festivals, and cozying up with hot chocolate at local cafes.

What are some fun things to do in Milwaukee for young adults?

Young adults can enjoy exploring the Third Ward's trendy shops, visiting the Milwaukee Art Museum, and attending live events in the city.


What are some unique things to do in Milwaukee?

Unique things to do in Milwaukee include visiting the Mitchell Park Domes, taking a cruise on Lake Michigan, and exploring the historic Third Ward.

What are some indoor date ideas in Milwaukee?

Indoor date ideas in Milwaukee include visiting the Milwaukee Public Museum, catching a show at the Pabst Theater, and enjoying a cozy meal at a local restaurant.

What are some fun things to do in Milwaukee for adults?

For adults, Milwaukee offers brewery tours, live music venues, vibrant nightlife, and upscale dining experiences.

What are some fun things to do in Milwaukee at night?

Milwaukee comes alive at night with options like visiting bars and clubs in the lively downtown area, attending live performances, and exploring the city's vibrant neighborhoods.

What are some fun date ideas in Milwaukee?

Fun date ideas in Milwaukee include taking a scenic walk along the Riverwalk, visiting local breweries for tastings, and attending cultural events.

What are some fun things to do in Milwaukee for families?

Families can enjoy visiting the Milwaukee County Zoo, exploring Discovery World, and taking a boat tour on the Milwaukee River.
▶️ Check out this list of the best Milwaukee hotels with in-room hot tubs to plan the perfect escape with your partner while enjoying one of the most romantic things to do in Milwaukee!
Wrap-up: Fun Things to Do in Milwaukee For Couples
There you have it for this list of the best fun things for couples to do in Milwaukee!
Milwaukee is an up-and-coming city filled with art, history, food, and romance, and definitely should not be overlooked when planning a romantic getaway for you and your boo.
Whether you're looking for date night ideas or just want to make the most of your visit to the historic city, there's something for everyone on this rundown of the most romantic places in Milwaukee!
Which one of these date ideas will you and your partner enjoy on your visit to Milwaukee?
---
Like this post? Pin it!