Are you looking for the best beaches in Zadar? I've got you covered!
If you're seeking a captivating coastal escape with an abundance of natural beauty and irresistible charm, look no further than the Zadar beaches.
I spent several weeks around Croatia, exploring its coastline and discovering some of the most beautiful beaches and hidden coves, so I can confidently say that Zadar it's my favorite spot to relax and enjoy the beach and nature.
Ready to learn about the best beaches in Zadar? Let's dive in! For a visual aid, they've all been pinned to this handy Map of Zadar Beaches for you so you can see what's where.
After finding your perfect Zadar beach, check out the Zadar Beaches FAQ to help you plan your perfect trip.
Best Beaches in Zadar Croatia
Whether you want to swim right in the city, near the old town, or in one of the nearby tourist spots, there are a lot of great places to do so.
Zadar has something for everyone, from beautiful city beaches to picture-perfect bays, clean rock beaches, and even velvet-soft sand beaches. Many of these spectacular beaches have been given the Blue Flag, a seal of approval for clean water and good beach services.
But where are the best beaches in Zadar, what are the insider tips, and which swimming spots are best for a holiday on the Adriatic?
In this post, I'll show you the best sandy beaches in and around Zadar and the most beautiful bays in the area and Zadar region. We'll also tell you about what we've learned and give you many tips to help you plan your trip.
1. Puntamika Beach
Puntamika Beach Plaza Puntamika is a small, quiet, and one of the best beaches in Zadar that stands out for its comfort and the beautiful colors of the water.
This clean beach has large pebbles and a small walkway along the coast. At the lower end is a small marina, and at the upper back, right next to the lighthouse, is a lovely café.
Locals love this beautiful city beach the most, but more and more tourists are also coming to this bay. Just behind the beach are apartment buildings that are privately owned and are perfect for a beach holiday.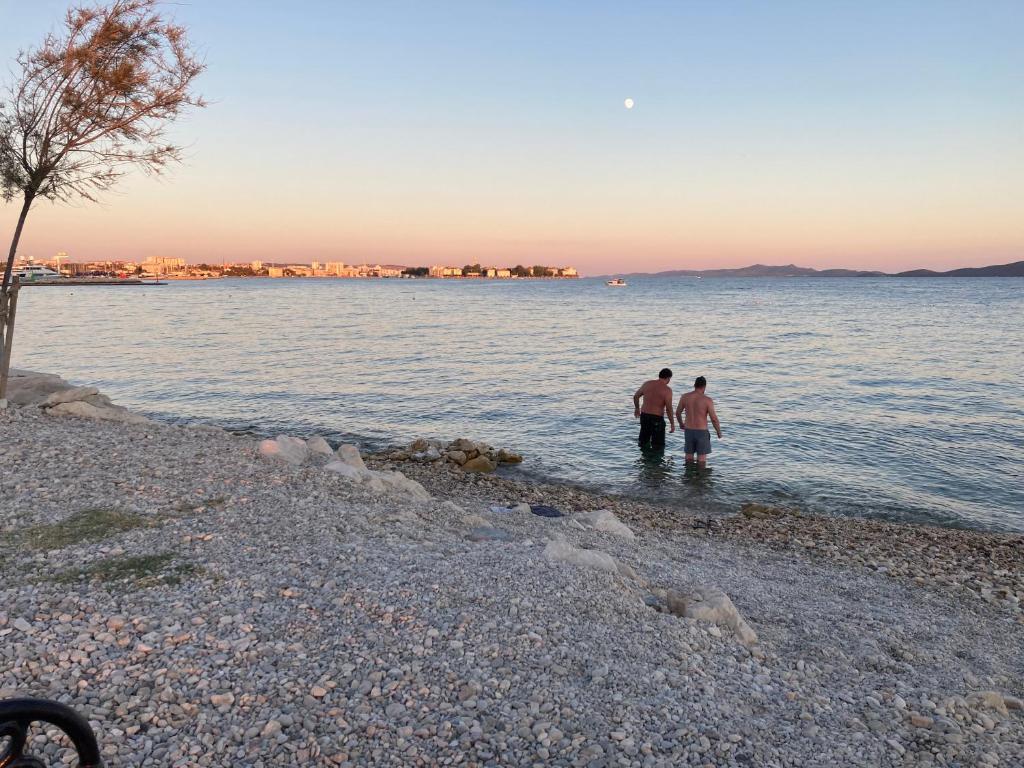 ⭐ Tip: The Apartment Nino in Puntamika is fantastic because it is right on the beach and has a great view. This is an excellent book for a beach trip! ▶️ Check prices & availability here.
2. Petrcane Beach
Beach Cape Radman (Petrcane Beach) is one of the best beaches around Zadar.
It is in the lovely resort town of Petrcane, which is on the beautiful Radman Peninsula and has a very idyllic atmosphere.
The sea is stunning turquoise, and the growing old trees naturally provide shade. The beach at Cape Radman is a mix of pebbles and concrete, which makes it great for families with kids.
⭐ Tip: The Hotel Pinija is close by and is a 4-star hotel right by the water. It has good food and a great setting. ▶️ Check prices & availability here.
3. Sakarun Beach
The boat ride to the northwestern side of the Dugi Otok island to get to Sakarun Beach is well worth it.
Dugi Otok can be reached by boat in about an hour (I personally recommend taking this Dugi Otok – full-day kayak adventure, where you will discover the most incredible places on the island, including Sakarun beach).
Why not bike in Brbinj or Boava and ride around the island? For example, Sakarun is not far from the famous Veli Rat lighthouse. If not, you can take a tourist train or bus to heaven on Earth.
This Zadar beach is known for its clear blue water and white sand. It's in one of the most beautiful coves in Croatia!
It's an ideal place to relax during the day because it's 800m long and has cool shade from the pine trees.
You can also snorkel here, as the water has very good visibility. And don't worry, you won't find Croatian sharks on this beach.
⭐ Tip: When night comes, you can see the other side of it: partying.
4. Beach Borik
One of the most famous beaches in Zadar is Borik Beach. Along this 1.5-kilometer coast stretch, there are many great places to swim for having shallow waters. Most of them are sand beaches.
The beautiful blue color of the water and the excellent quality of the water invite you to swim and jump around in the sea. Pine trees provide a natural shade, and their height gives the coast a unique look.
From the Falkensteiner Club Borik in the west to the Hotel Adriana, the Diklo resort, and the Borik campsite in the east, the Borik beach runs.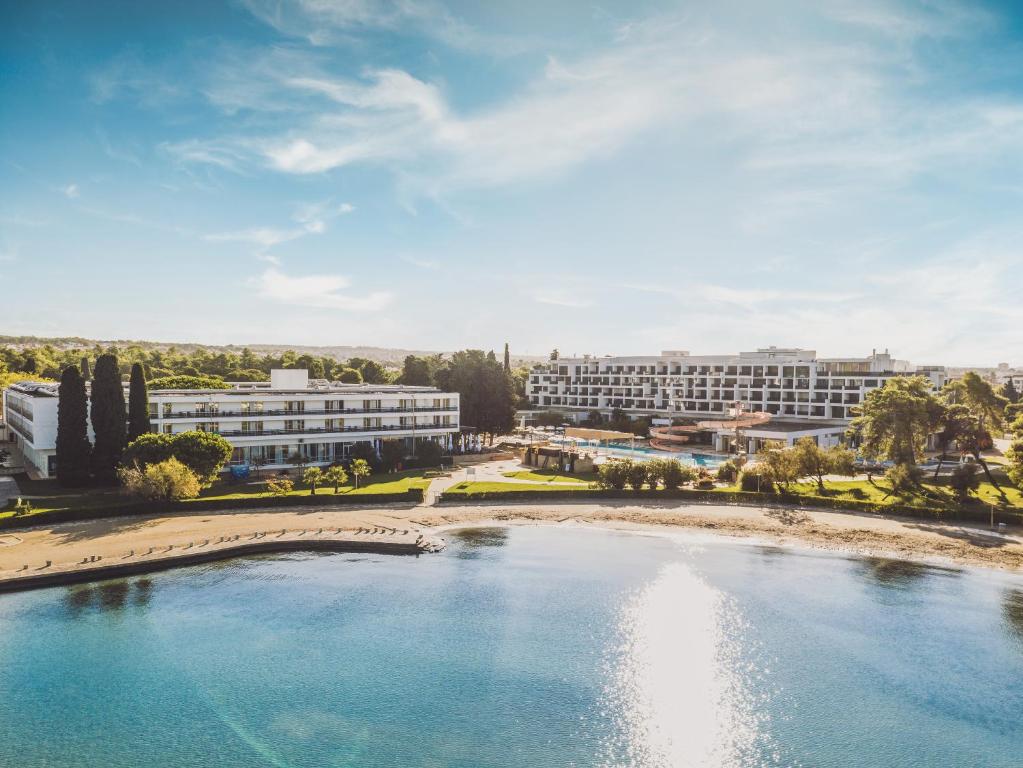 ⭐ Tip: The Falkensteiner Club Borik is a family hotel and beach club in Zadar many people like. It's right on the coast of Borik and impresses with its beautiful setting on a small, beautiful sandy beach. ▶️ Check prices & availability here.
5. Beach Camp Borik
Camp Borik Beach is a great place to spend a vacation in Zadar.
This beautiful bay of pebbles and sand is right before the 5-star Falkensteiner Premium Mobile Homes and Camping Zadar. Still, it is open to the public as well.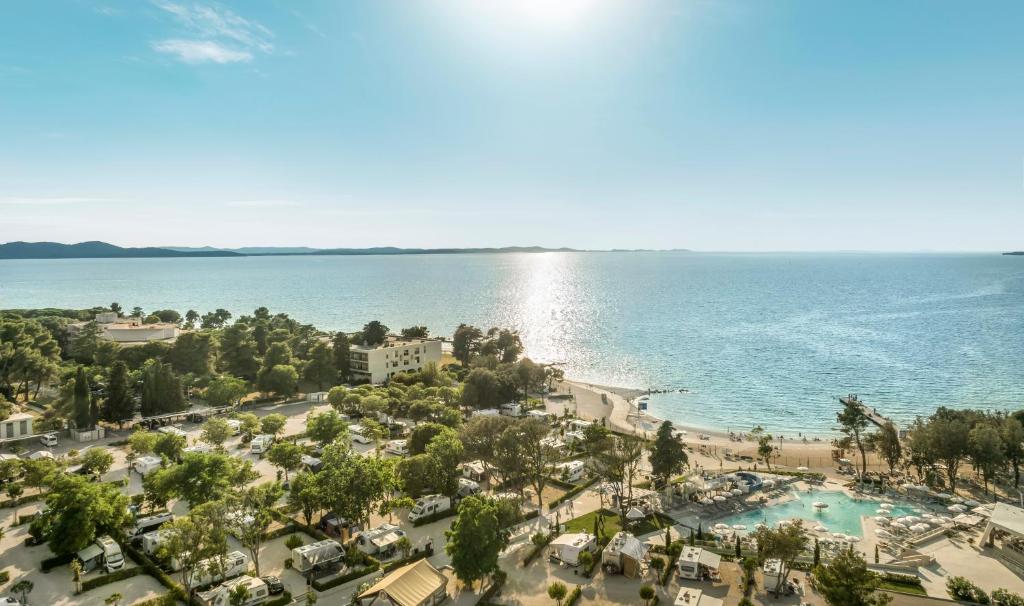 Families with kids love this beach because it slopes gently, and the water is shallow enough for them to play, splash, and swim.
The bright blue color of the water is also beautiful, giving this bay a truly paradisiacal feel.
⭐ Tip: The beach is right behind it. Camp Borik is the 5-star Falkensteiner campsite with Acquapura SPA, an outdoor pool, and friendly Mobile Homes near the swimming bay. ▶️ Check prices & availability.
6. Beach Kolovare
One of the best bays in Zadar is the beach Kolovare, just south of the old town. Both tourists and people who live here love to swim here.
You'll find a mix of tiny, almost sand-like pebbles and well-kept concrete beaches when you go.
On the northern part of the beach, you can find cool shade under the pine trees or rent a cover.
There is also a lot to do here for tourists. Near the beach in Kolovare, you can find restaurants, café-bars, small booths, and ice cream shops that don't break the bank.
⭐ Tip: The Karuzz Apartment is a vacation apartment with a large patio only 100 meters from Kolovare Beach. ▶️ Check prices & availability here.
7. Beach Riva (Old Town of Zadar)
In Zadar beaches and old town, the promenade, or "Riva," is another famous place for sunbathers.
This beach area is a great place to cool off on scorching summer days, especially if you visit the city or live there.
Some stairs and steps lead into the clear water along the promenade, which is about a kilometer long.
The steps at the Sea Organ, a famous sight in the old town, and the long concrete pier in the middle of the promenade are popular places to swim and sunbathe.
⭐ Tip: If you want to spend your vacation in charming Zadar old town, the Almayer Art & Heritage Hotel is a beautiful boutique hotel with an artsy and modern vibe. ▶️ Check prices & availability here.
8. Punta Bajlo Beach
The beach at Punta Bajlo is one of the most beautiful beaches in Zadar.
It's on a small, wooded peninsula about 3 km from the old town. Both locals and visitors like to go there. Nothing has changed much here, which gives this stretch of coast a unique feel.
The pebble beach is an excellent mix of pebbles, rocks, and concrete sunbathing places. The beautiful colors of the water invite you to swim. Just behind the beach is a pine forest that smells nice and offers shade and a calm environment.
⭐ Tip: We also suggest the cute beach restaurant, which has a great sea view and serves local food and delicious pizza.
Best Beaches Near Zadar
Near the city of Zadar, there are also some beautiful beaches.
Zadar County is home to popular resorts like Zaton, Nin, Bibinje, Petrcane, Vrsi, Sukosan, and Vir Island, which offer guests a wide range of dream sandy beaches near Zadar.
The region also includes the Zadar archipelago, a group of islands off the coast. These islands have beaches that look like they belong in a picture book, like the famous Sakarun Beach.
9. Queens Beach (Nin)
Queens Beach, near Nin, is one of the most popular sandy beaches around Zadar.
It's only 15 kilometers from the heart of Zadar.
This beach's name comes from the wife of the first king of Croatia, Tomislav. She fell in love with this beautiful golden beach in Croatia.
People of all ages like this dream beach with a gentle slope, where even small children can splash in the calm water.
⭐ Tip: Nin is a popular place to vacation in the Zadar area. We suggest the Kartini Apartment, which is only about 600 meters from the beach and is well-equipped. ▶️ Check prices & availability here.
10. Beach Bilotinjak
The beach Bilotinjak is a well-kept secret in the area around Zadar.
This bay was made by nature and is about 15 kilometers east of the city center. It's close to the towns of Zaton and Nin.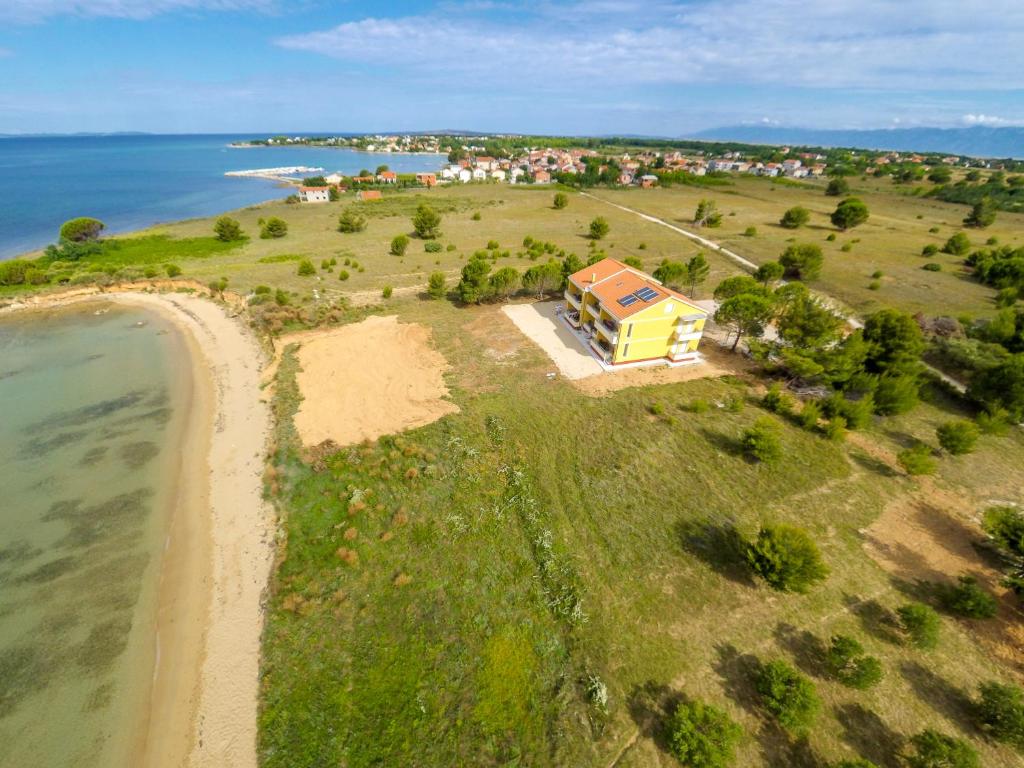 You can expect to find a beautiful grassy beach here, and the colors of the water and the scenery will blow you away. The reddish rock shapes here also make this beach stand out.
⭐ Tip: The Apartments Lily, right behind the beach, is the perfect place to stay for a holiday at this dream beach. ▶️ Check prices & availability here.
11. Sakarun Beach (Dugi Otok Island)
Sakarun Beach is one of the most popular beaches in the Zadar islands and has become a popular day trip from Zadar.
This dream beach is often featured in magazines and TV ads for Croatia because of its beauty.
It's on the island of Dugi Otok, known for its uniqueness and nature that hasn't changed.
When swimming in the 800-meter-wide bay, you can enjoy the velvety soft, very light-colored sand beach and the most beautiful blue sea colors—one of the best beaches in the Zadar area.
⭐ Tip: You can also get to Sakarun Beach by boat from Zadar. This Sakarun Beach Small Group Boat Tour from Zadar will take you to the Sakarun Lagoon where you can swim, snorkel, and soak up the sun (with snacks and light refreshments included!).
12. Beach Zaton Holiday Resort
It's in the Zaton Holiday Resort, only 13 kilometers from the city center. It's one of the most famous beaches for a beach vacation in Zadar.
Here is a 1.5-kilometer-long stretch of coastline with a beautiful sand beach and some concrete places for sunbathing.
At Zaton Beach, the crystal clear waters shine in the most beautiful shades of blue. The resort also has a large pool area, a small water park, and fun things to do, like a tiny golf course and a tennis court. ▶️ Check prices & availability here.
⭐ Tip: Mobile Homes and Glamping Tents are also very popular here and an excellent choice for a holiday in Zadar.
13. Duboka Draga Sandy Beach (Vir Island)
The island of Vir is a natural paradise because it has numerous sandy beaches. It's about 25 kilometers from Zadar and is linked to the mainland by a bridge.
Plaza Duboka Draga, a beautiful natural bay in the north of the island, is one of the most beautiful beaches close to Zadar.
People can see striking sights like red rocks, a soft sand beach, and a beautiful blue sea. You should take advantage of this dream beach in the area.
⭐ Tip: Vir has a lot of charm because it does not have substantial hotel buildings. Instead, you can find great flats like the Sunset Deluxe Apartments or the Apartments Svetec.
14. Ninska Laguna – Nin's Lagoon
Nin's Lagoon is close to Zadar and the old town of Nin. It has several kilometers of sandy beaches and quiet coves. And it has everything!
It's a great place to try out the traditional ball game picnic because the water is small and warm. Beach volleyball, badminton, windsurfing, and other sports activities are fun for people who want to do something.
If you don't mind getting dirty and want to take a unique selfie or group picture, wallow in the healing mud near Queen's Beach, which has been named one of the most beautiful beaches in the world.
So, hop on the bike you rented, and in an hour, you'll be relaxing on a beach that will take your breath away. Nin's Lagoon is a one-of-a-kind place with beautiful views like low dunes and Velebit mountain in the background.
15. Zrce beach
If you like to party, you know about the Zrce beach in Novalja on the island of Pag.
Even better, you must have already been there. It's where people party in Croatia, and the partying goes on all summer.
The truth is that this pebbly beach is best known for its parties rather than for its blue flag or its many services.
So, go bungee jumping, diving, paddle boarding, or jet-skiing and party until you drop in Croatia's party center, two hours by bus from Zadar or just one hour by private transfer from Zadar.
Zadar Beaches Map
How to get around Zadar
There are few cars in Zadar's Old Town, which is entirely pedestrian. You can walk to most places in the region unless your lodging is farther away.
You can utilize any local taxi service, such as Luli Taxi, to go to the Old Town.
The bus, operated by a firm called Liburnija, is the only mode of public transportation in Zadar. Tickets can be purchased in advance at a kiosk or when boarding any bus for 10 km.
Between the Old Town, the primary bus station, and the suburbs, buses run frequently.
Best Things to Do in Zadar
Zadar is one of the Adriatic's most exciting and interesting cities.
Zadar is full of history and has a lively cultural scene, so it's impossible to be bored there. And Zadar is a great place to start for a number of fun day trips.
And there are lots of top things to do in Zadar!
Here are 10 of Zadar's best activities you can't miss:
Check out Sea Organ
The well-known Sea Organ is an urban project and a musical instrument that is also on the southwest quay of Zadar.
When you put a tube inside the stone steps, the movement of the waves and sea breezes turns into a series of eerie sounds. It's the best thing to listen to as the sun goes down.
Watch the most beautiful sunset from the Riva
The southwest quay of Zadar is a great place to walk, have a picnic, or even jump into the water for a quick swim.
As the sun goes down, people head down to the water to watch one of the best shows on the Adriatic.
Alfred Hitchcock said that the sunset in Zadar was "the most beautiful in the world" when he was there in 1964.
Sun Salutation Light Show: Have fun!
But wait! Don't go away from the southwest quay yet. The Sun Salutation keeps the light show going after it gets dark.
After dark, 10,000 solar cells let out the light they took in during the day, making a spectacular light show. One of Zadar's most popular sights is this 22-meter-diameter circle plate.
Visit the Heritage of Zadar
Zadar's history started with the Romans, continued with the Venetians, and ended with the Austrians.
From thinking about how grand Roman Zadar was to walk along the walls and gates built by the Venetians, sightseeing in Zadar is always interesting.
Watch how glass is made
The biggest collection of Roman vials, goblets, cups, and flasks outside of Italy can be seen at the Museum of Ancient Glass in Zadar.
It's also an important place to keep and improve glassmaking skills. People can watch glassmakers and glass blowers at work in their shops from 10 am to 2 pm, Monday through Saturday.
In a Barkajol, across the Jazine Bay
Boatmen (barkajoli) have been rowing people across the bay for 800 years.
You could walk 20 minutes to the walkway that connects the Zadar peninsula to the rest of the country, but paying the boatman €0.50 is much more romantic and fun.
At Fosa, you can have a romantic dinner
Fosa is not only the best restaurant in Zadar, but its view of the small harbor (fosa) is sure to make for a dreamy, peaceful evening.
The food is mostly fish (delicious), but there are also choices for vegetarians.
See a performance at St. Donat
The 9th-century St. Donat church in Zadar is known for how well it sounds. Since the church is no longer used for worship, it is often used for classical music events.
The "St. Donat Musical Evenings", which happen almost every night in July and August, are the events that get the most praise. Look at the schedule here.
Market in Zadar
Shop for groceries at the City Market. Markets are a great place to see what's going on in the city, and this is where you'll find the freshest local fruit, fish that was just caught, and meat from the countryside.
Just inside Zadar's northeastern quay, you can find this shop. It sells homemade olive oil, rakija, and jams!
Zadar Friday Fest
At the Friday Fest, you can have fun on Fridays.
Every Friday night from June to September, the streets of the old town are filled with klapa singing groups, fresh local snacks, cool traditional drinks, and stands selling all kinds of Dalmatian treats.
It's free and a lot of fun!
Where to stay in Zadar
Beach Life: Since it is on a seaport, there are lots of places to swim and see the water, and pedal boats run from a nearby port to nearby islands.
Explore the area: This hotel is in a great spot in the middle of Zadar, so churches, Roman forums, restaurants, and nightlife are all close by.
Sailing: Take a ferry from one of the nearby ports and spend the day visiting the nearby islands.
Nearby Sights: See the famous artworks along the coast of Zadar Organ Greetings to the Sun and Sea
This small hotel has only nine rooms and is in a nicely remodeled building from the 1800s. The outside is traditional, but the inside is modern and stylish.
The rooms are stylish and have big oil paintings and polished concrete floors in earthy colors. A place that is definitely cool!
▶️ Check prices & availability here
Places of interest nearby: Located on the peninsula, it is close to all the important sights.
Zadar is known for its bar scene and nightlife.
Restaurant – Serves food from the Mediterranean
Local markets are a good way to see how people live.
The old town of Zadar is only a few minutes away from this amazing four-star hotel. Some of the traditional, beautiful rooms can sleep up to four people and have soft lighting, rich fabrics, and wallpaper.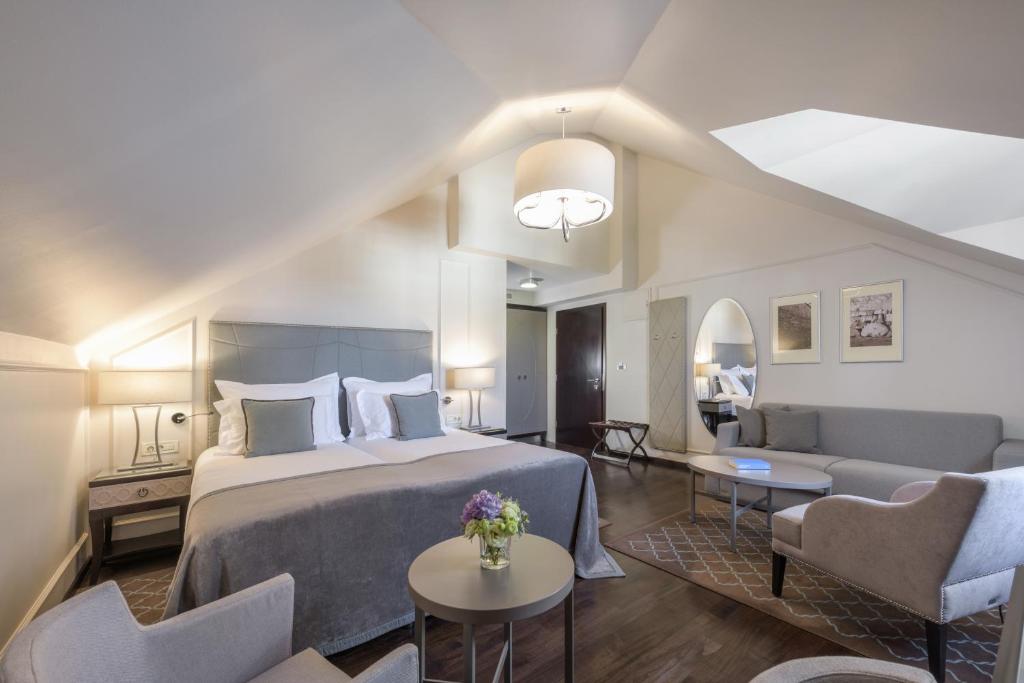 The restaurant, terrace, spa, and office room were all top-notch. Suitable for any traveler!
▶️ Check prices & availability here.
Local sightseeing: This hotel is in a great spot in the middle of Zadar, making it easy to explore the city and its sights at your own pace.
Great walks: Visit Paklenica National Park to see the two valleys and walk some of the 200km of trails that are marked.
Nearby attractions: Visit Donatus' Church, the Roman Forum, and the City Walls, as well as the many beautiful buildings in the area.
Designer – Uniquely made interiors.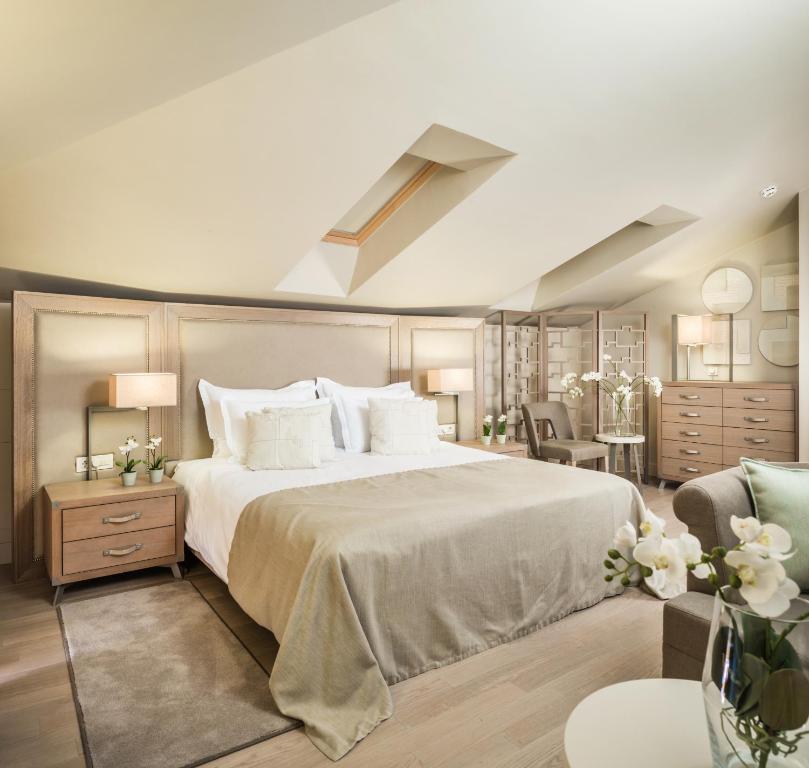 This stylishly built hotel with chic, modern furnishings and decor, as well as gourmet breakfasts and dinners. The smart rooms have a soothing color scheme of beige and cream, and they have big modern bathrooms made of pretty natural stone from the area.
A base that is both stylish and useful!
▶️ Check prices & availability here
Foodies: There are two places that serve specialties from Dalmatia.
Spa breaks: A modern spa with two floors.
Families: There are many things for kids to do.
Views – The hotel has great views!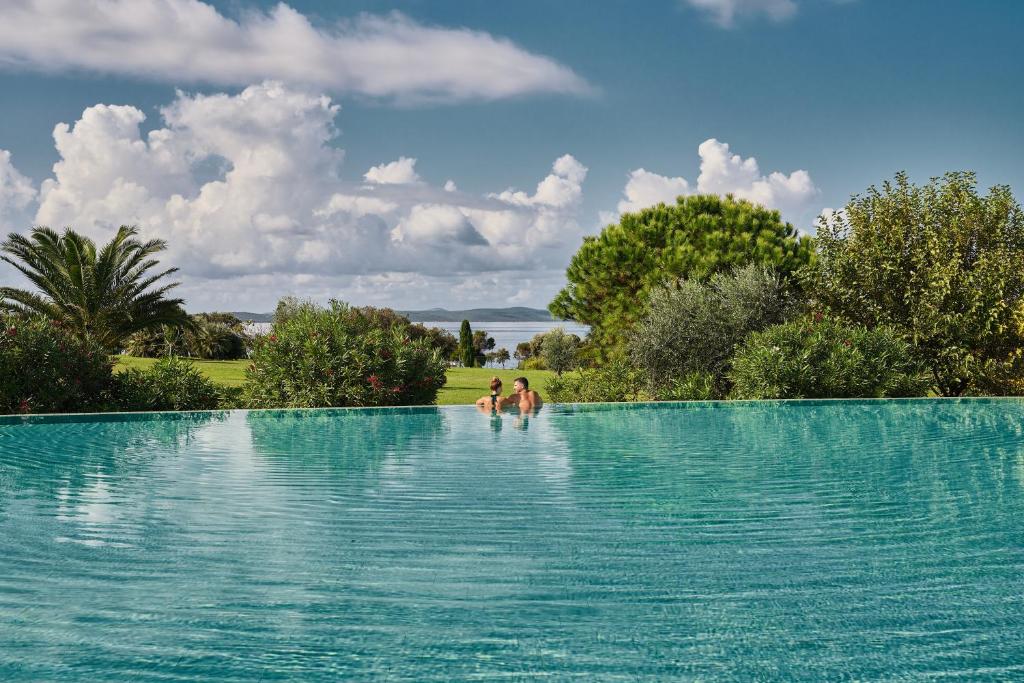 This great modern spa hotel is on the peninsula of Petrcane. There are beautiful views of the ocean, a modern spa on two floors, delicious Dalmatian food, and cute nautical-themed rooms and suites with all the latest amenities.
A stylish choice for a spa and beach vacation that is also good for families.
▶️ Check prices & availability here
Best Time to Visit Zadar
Between June and September is the best time to go to Zadar. Because it doesn't rain much and gets up to 82°F, it's a great place to go on vacation.
During those warmer months, don't forget to drink plenty of water. Besides, you can drink tap water in Croatia without any problems!
When Should You Go To Zadar?
The Mediterranean climate of Zadar means that the winters are cold and the summers are hot and muggy. From May to September is the best time to stop by for a visit.
Between June and August, when average temperatures are between 24 and 28 degrees Celsius, you can always count on the best weather.
But from November to March, there aren't many days above 10 degrees Celsius, and you won't be able to sunbathe on the beach, but if you want to get away from the crowds, these months are perfect to visit the beaches of Zadar and disconnect.
FAQ about the beaches in Zadar and around Zadar
Are there beaches in Zadar Croatia?

Yes, Zadar, Croatia, is blessed with beautiful beaches along its stunning coastline.


Does Zadar have nice beaches?

Yes, Zadar, Croatia, boasts beautiful and picturesque beaches that are perfect for relaxation and enjoyment.


Are there sandy beaches in Zadar?

Yes, Zadar has sandy beaches, including Kolovare Beach, Borik Beach, and Nin's Queen's Beach (Kraljičina plaža).


Are beaches in Zadar free?

Yes, most beaches in Zadar are free to access and enjoy. However, some organized beaches may have certain facilities or services that require payment, such as beach chairs or umbrellas.


How far is Zadar from the beach?

Many beaches in Zadar are within a short distance from the city center, typically ranging from a few hundred meters to a couple of kilometers away, like Kolovare Beach.


Does Zadar have a beach right in the city?

Yes, Zadar does have a beach located right in the city. Kolovare Beach is a popular beach situated just south of the city center, within walking distance.


What are some beaches around Zadar Croatia that are both nice and quiet?

For nice and quiet beaches near Zadar, Croatia, consider Sakarun and Sakarun on Dugi Otok, Privlaka Beach, Nin's Lagoon, and Kraljičina Plaža.


Can you swim in Zadar, Croatia?

Yes, you can swim in Zadar, Croatia. The city is located on the stunning Adriatic coast, and there are numerous beaches and swimming areas where you can enjoy the crystal-clear waters of the Adriatic Sea.


What are the beaches like in Zadar?

Zadar's beaches offer a mix of sandy, pebbly, and rocky shores. Enjoy clean, clear waters and a variety of amenities at some beaches, while others provide a more natural and serene experience.


How to go from Zadar to Sakarun Beach?

From Zadar, take a ferry to Brbinj on Dugi Otok island. Then, hire a taxi or rent a car to reach Sakarun Beach, located about 20km away.

Final thoughts on the best beaches in Zadar
Zadar is one of the best places to visit in Croatia because it's close to many must-see places and has its own cultural, historical, and modern sights and a busy events schedule.
No matter what brings you to Zadar and what you plan to do there, you can take advantage of a swim in the Adriatic Sea and enjoy all of the beautiful places on this list of the best beaches in Zadar.
From the idyllic shores of Kolovare Beach to the serene charm of Nin's Lagoon, Zadar's beaches offer a slice of heaven for every beach lover.
Soak up the sun, take a refreshing dip in the crystal-clear waters, and create unforgettable memories in this coastal haven.
If besides going to the beach you want to explore the city, don't miss my post with the top things to do in Zadar.
---
Like this post? Pin it!